Winter 2022 Newsletter
It's Calendar Time!
The Calendar is the perfect gift and only $15. All proceeds to the Middlesex Centre Archives.

This year, we have a new look and design and we hope you'll love it as much as we do! The 2023 theme is industry – and we've picked some great images from the MCA collection to show industry throughout the years in the municipality.

Get your calendar at locations throughout the Municipality:
Crunican Orchards, Elginfield
Oak & Linen, Arva
Floral Temptations, Ilderton
Foodland, Komoka
Middlesex Centre Municipal Offices, Coldstream
BJ's Country Market, Delaware
Delaware Variety

and of course, directly from the Archives!
Can't visit any of these locations? No problem! Contact us about receiving yours by mail.
Thank you to all our community partners and supporters! And a great big thank you to our volunteers who gave their time to produce the calendar. We couldn't do this without you!
___________________________________________________________________________________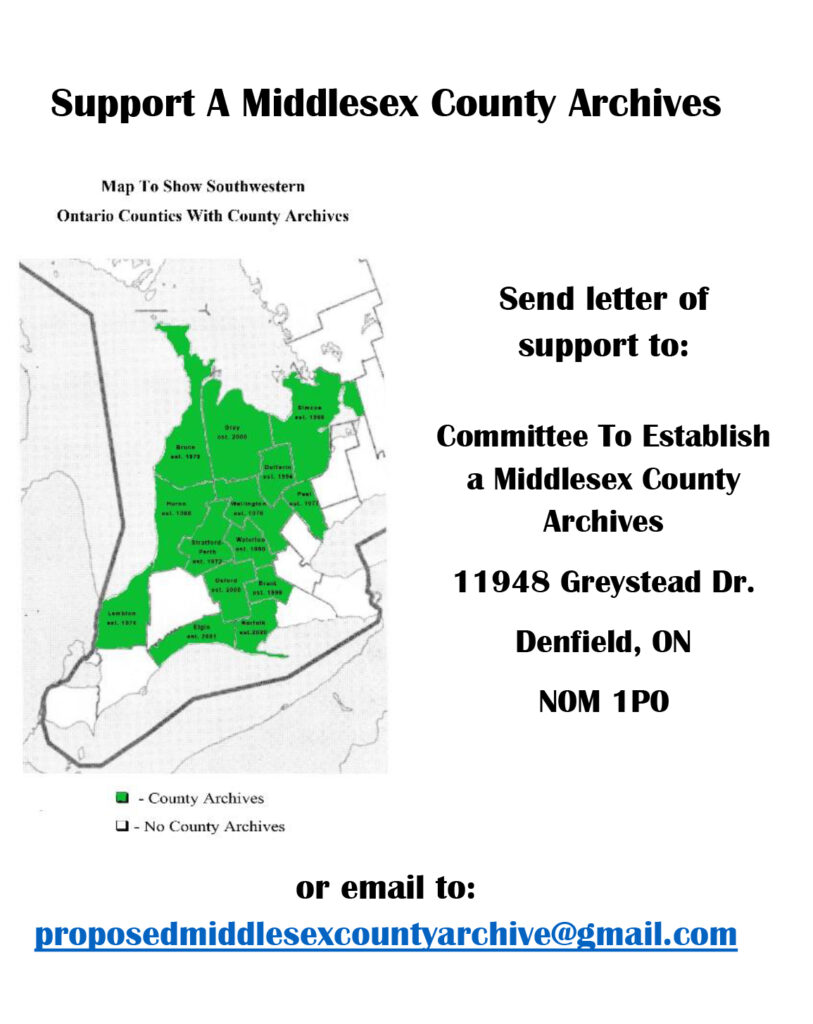 __________________________________________________________________________________
Have you been cleaning and sorting your files? Do you have old photos, books, documents, organisations' secretary/treasurer books, posters, letters, books, family histories etc. from Middlesex Centre? Before you throw them in the recycling bin or dumpster, consider donating them to the Middlesex Centre Archives. We will save those precious articles for you and future generations to study, research and learn about our past. We hope to re-open on September 9th or when it is deemed safe to do so. We will let you know!
Call to Action

We are experiencing history. This has never happened in our lifetime. We do hope you are keeping records because in 50 to 100 years, our descendants will be researching in archives to discover how their ancestors (that's you) survived Covid-19. Once Middlesex Centre Archives is open to the public, we would love copies of those memoirs – diaries, photos and/or videos.
Mail: Middlesex Centre Archives
Box 47 Delaware, ON N0L 1E0
OR email: [email protected]
---
Our Community Partners