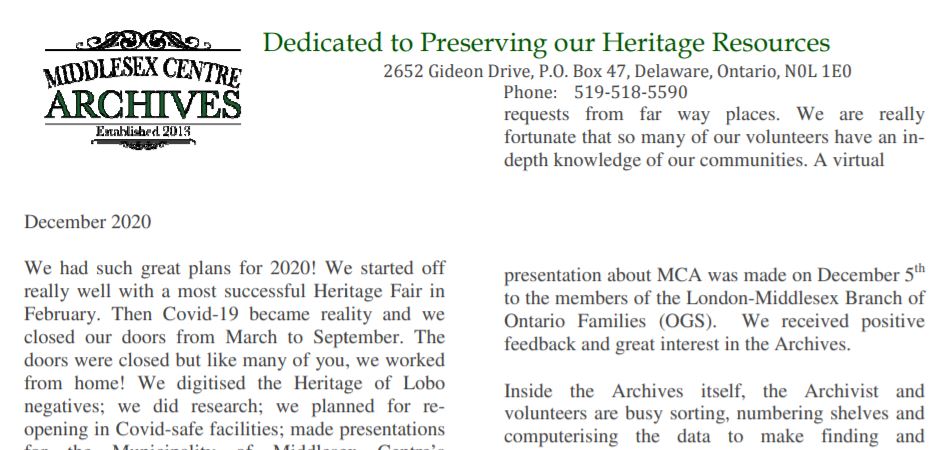 Membership for 2021
It is that time of year when we begin looking towards a new year and making plans. Hard to believe that despite Covid-19, the year has sped by. Seeing our increased document donations, it shows that many of you have been busy sorting and thinking of us. That is great news for future generations.
Click HERE to download a copy of our 2021 membership form. The fees remain at $15 per member. We do appreciate the support of all our members and if you are not a member yet, please consider joining MCA. It is a busy place and doing great work.
As with many non-profit organisations, funding is always an issue but even more so this year of Covid-19. We were closed from March through September. That meant no traffic through the Archives; no research fees; no sales of our books and minimal monetary donations. MCA has a budget of about $47,000 per year. The Municipality of Middlesex Centre generously donates our Archives' facilities on Gideon Drive, complete with electricity, telephone and internet. We are most grateful. However, the Board of Directors must raise, through grants and donations, an additional $47,000 for Annex rentals, Archivist salary, specialised archival supplies etc. The grants and donations are understandably more difficult to attain this year. That is the reason this appeal is going out to you.
How You Can Help
There are options available:
1. A monetary donation in addition to your membership. Tax receipts will be given for donations of $20 or more.
2. Through Filson Auctions of Denfield (www.filsonauction.com), MCA will be joining in a virtual auction on February 11, 2021. This auction was to be a toy auction, but Ray and Dave have agreed to include our articles. A big "Thank You" to Ray and Dave. We are asking for donated items for that auction. No article is too big or too small. Please let us know what you would like to donate via email (middlesexcentrearchives@gmail.com)or telephone (Archives – 519-518-5580); or contact committee members – Carol Small (519-666-1488), Bev Hughes (519-666-0452) Mary Vanderwal (519-666-0815). The deadline to have articles to us is January 15, 2021. We will make arrangements for drop-off or pick up. Please help us make this a highly successful fundraiser. We look forward to hearing from you soon.
We do so appreciate all your support.
Sincerely
Carol Small, Chair
And all the Directors of MCA
PS
Have you got your 2021 calendar yet? This year's calendar features churches past and present in Middlesex Centre. They are available at Marsh Store, Floral Temptations, Crunican's Orchards, Arva Flour Mill, Foodland (Komoka), BJ's Country Market, Delaware Variety and Middlesex Centre Archives. For $18 MCA will mail ordered calendars. Email middlesexcentrearchives@gmail.com. Payment via etransfer, cheque or PayPal.Attachments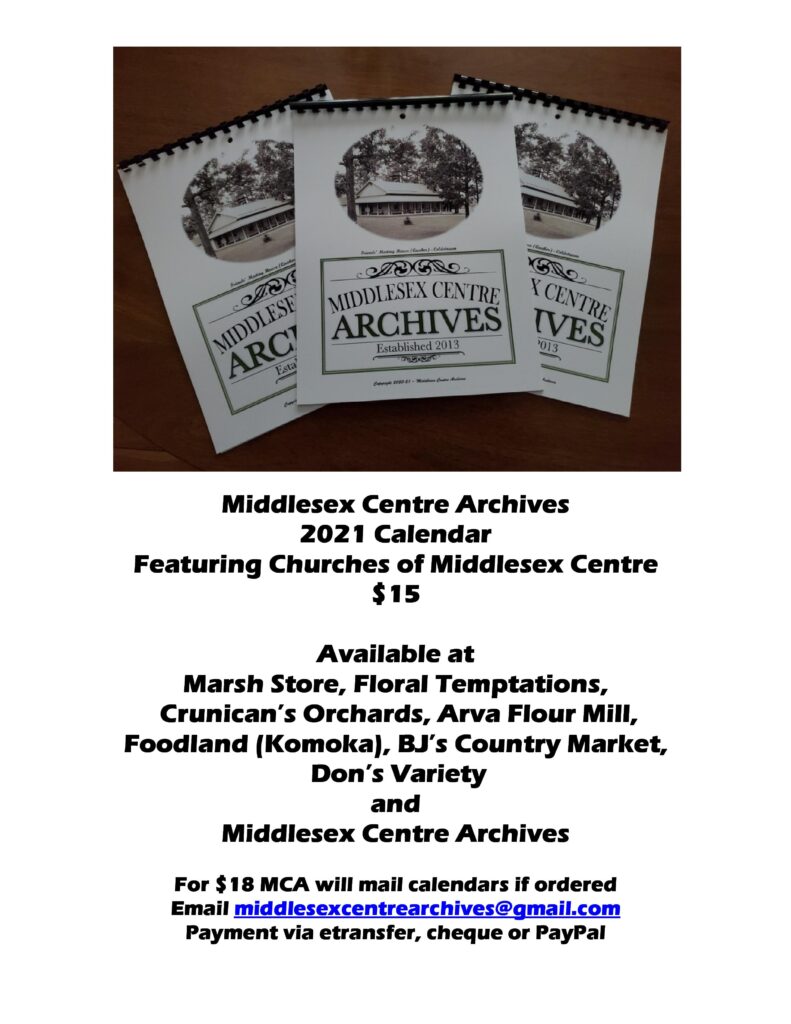 ______________________________________________________________________________
Have you been cleaning and sorting your files? Do you have old photos, books, documents, organisations' secretary/treasurer books, posters, letters, books, family histories etc. from Middlesex Centre? Before you throw them in the recycling bin or dumpster, consider donating them to the Middlesex Centre Archives. We will save those precious articles for you and future generations to study, research and learn about our past. We hope to re-open on September 9th or when it is deemed safe to do so. We will let you know!
Call to Action

We are experiencing history. This has never happened in our lifetime. We do hope you are keeping records because in 50 to 100 years, our descendants will be researching in archives to discover how their ancestors (that's you) survived Covid-19. Once Middlesex Centre Archives is open to the public, we would love copies of those memoirs – diaries, photos and/or videos.
Mail: Middlesex Centre Archives
Box 47 Delaware, ON N0L 1E0
OR email: middlesexcentrearchives@gmail.com
---
Our Community Partners